The occupied territories have witnessed new tensions ever since President Donald Trump announced on December 6 US recognition of Jerusalem al-Quds as Israel's so-called capital.
The dramatic decision triggered demonstrations in the occupied Palestinian territories as well as Iran, Turkey, Egypt, Jordan, Tunisia, Algeria, Iraq, Morocco and other Muslim countries.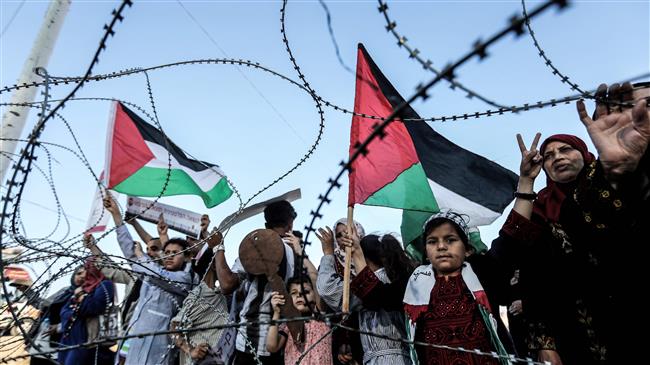 A girl raises a Palestinian flag as another Palestinian boy holds a wooden key symbolizing the return before the barbed-wire east of Gaza City on May 13, 2018. (Photo by AFP)
Kremlin: US embassy opening adds fuel to Mideast tensions
The Kremlin said on Monday it feared the opening of a U.S. embassy in Jerusalem would increase tensions in the Middle East, Reuters reported.
"Yes, we have such fears," Kremlin spokesman Dmitry Peskov told reporters on a conference call, when asked if the Kremlin was concerned the move could increase tensions in the wider region.
UN experts slam Israel's 'disproportionate use of force'
In a relevant development on Monday, UN rights experts urged Israel to halt excessive use of force against peaceful Palestinian protesters, calling for an "impartial, independent investigation" into Israeli troops' violence in occupied territories.
The UN Committee on the Elimination of Racial Discrimination said it was "alarmed by the disproportionate use of force displayed by the Israeli security forces against Palestinian demonstrators."
The 18-member UN committee said it was "gravely concerned that many of the persons who died or were injured were reportedly posing no imminent threat at the time they were shot," voicing alarm at "many reports according to which Israeli authorities have denied and continue to deny access to urgent medical treatment to injured Palestinians."
The UN rights experts further stated that the deaths and injuries in occupied territories occurred "in a context marked by the 50-year occupation of the Palestinian territory" as well as a more than decade-long crippling blockade imposed on Gaza.
Palestinian govt.: Israel committing 'terrible massacre' in Gaza
Also on Monday, the Palestinian government accused Israel of committing a "terrible massacre" of Palestinians in protests in Gaza Strip.
Palestinian government spokesman, Yusuf al-Mahmoud, demanded in a statement "an immediate international intervention to stop the terrible massacre in Gaza committed by the forces of the Israeli occupation against our heroic people."
Arab League plans extraordinary meeting
The Arab League is preparing for an extraordinary session on Wednesday to discuss Washington's "illegal" move of relocating its embassy from Tel Aviv to Jerusalem al-Quds.
Egypt's state news agency MENA also quoted an Arab diplomat as saying that permanent representatives to the Arab League will be participating in the event.
The meeting is convened with an aim "to counter the illegal decision taken by the United States of America to transfer its embassy to Jerusalem," it added.