Middle East
World News
Funeral procession held for Iranian security forces killed in Zahedan terrorist attack
On Sunday, Brigadier General Mohammad Karami, who commands the Islamic Revolution Guards Corps (IRGC) Quds Force Headquarters in Southeastern Iran, Iran's Deputy Police Chief Brigadier General Qassem Rezaei, Chief of Criminal Investigations Department of the Islamic Republic of Iran Police, Brigadier General Mohammad Qanbari, as well as senior local officials took part in the ceremony in the city of Zahedan.
The participants demanded that the perpetrators be brought to justice.
Chief Commander of the IRGC, Major General Hossein Salami, has vowed that the force will avenge the deaths of the victims of Zahedan terrorist attack.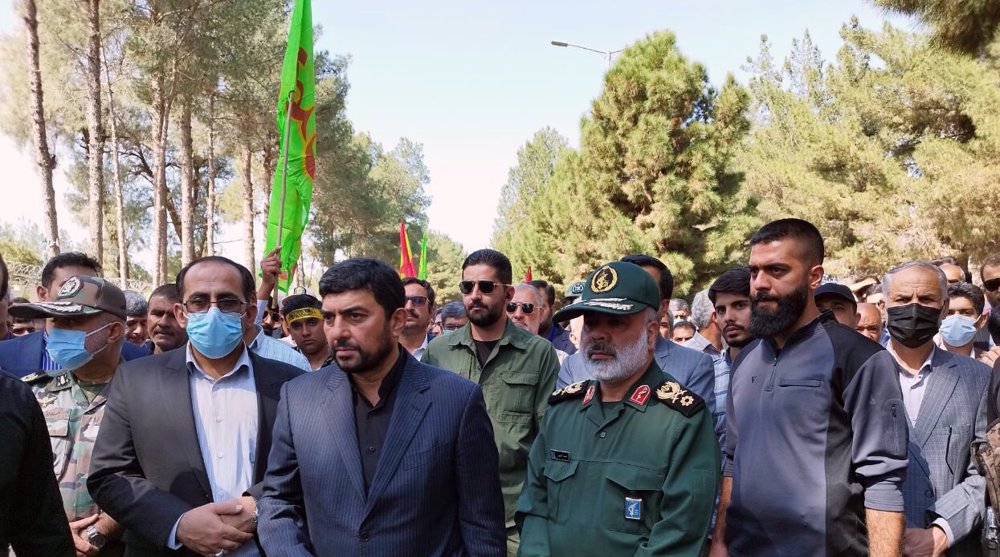 Salami said in a statement that the IRGC will continue to counter plots hatched by arrogant powers and terrorists affiliated with foreign intelligence agencies in Sistan and Baluchestan Province.
He also offered his condolences on the deaths of four IRGC members in the attack and thanked local people for their unity and cooperation with security forces against such terrorist attacks.
The general blamed the United States and Israel for backing the separatist terrorists behind the attack.
On Friday, terrorists launched armed attacks on several police stations and public places in Zahedan after congregational prayers in the city, killing 19 people and injuring 20 others.
Sistan and Baluchestan's Governor Hossein Modarres Khiabani said, "a number of rioters affiliated with terrorist and separatist groups, whose identities are clear" attacked the police station and threw stones and opened fire, provoking a severe reaction by police forces.
The terrorists also set ablaze a fire engine, an emergency station, and a bank, among other places in the city but their attempts to continue rioting failed following the timely presence of security forces.
In a statement, the so-called Jaish ul-Adl separatist and the terrorist group claimed responsibility for the attack in Zahedan.