Turkish anti-riot police in Istanbul have arrested over 50 people and placed a security lockdown on the Turkish metropolis as the city marked the International Labor Day, known as the May Day.
At least 52 people were detained as they were attempting to defy a ban on holding demonstrations in the city's key protest locations, including the Taksim Square, on Tuesday.
The annual workers' holiday in the Anatolian country has traditionally been a time that workers, unsatisfied with the working conditions, stage demonstrations, leading to confrontation between protesters and police. However, in recent years authorities have left nothing to chance by completely barring access to key protest areas.
The central Taksim Square was totally barricaded off by police, with aerial pictures showing the usually crowded urban space deserted apart from police forces.
The report added that the detainees were taken in buses to police stations for questioning, with reports saying that almost all shops were closed along the streets leading to the famous square and shopkeepers would have to wait until the evening for the potential customers to be allowed through.
Other reports said that demonstrators, who were seeking to defy the ban on rally in Taksim by marching towards the square, were roughly arrested, with police pinning the detainees to the ground.
Meanwhile, thousands of other people were participating in officially-allowed May 1 events in the Istanbul district of Maltepe at a vast meeting area, with similar gatherings formed across the country, including the capital Ankara and Turkey's third largest city of Izmir.
As Turkey prepares for snap parliamentary and presidential elections, slated to be held on June 24, political tensions escalate increasingly. President Recep Tayyip Erdogan intends to secure a thumping parliamentary majority and a second term as the head of state.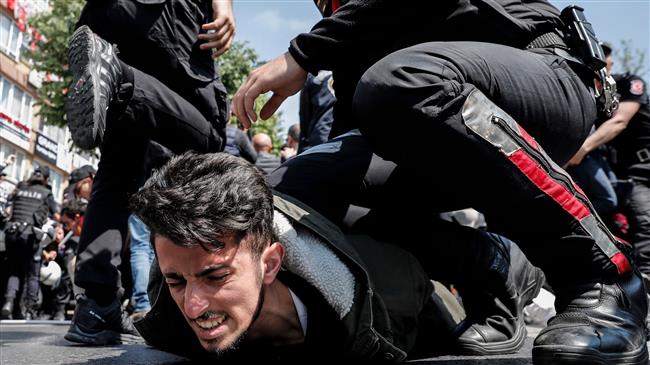 Rights campaigners and international organizations have expressed doubts about the legitimacy of the elections which would come under a renewed state of emergency in Turkey. The measure has been in place since a failed coup two years ago, allowing the government to jail or dismiss more than 200,000 people over suspected links to coup plotters.
The Council of Europe Parliamentary Assembly Monitoring Committee, an international watchdog, has already said the emergency law could undermine the legal bases of the elections.