Middle East
World News
Thousands bid goodbye to Palestinians killed in Israeli raids
Thousands attend a funeral procession and a subsequent burial ceremony held for two Palestinians, who were killed during raids carried out by the Israeli regime's military near the city of Jenin in the northern part of the Tel Aviv-occupied West Bank.
Footage circulated across social media, showed the Palestinians chanting anti-occupation slogans as they were carrying the bodies of 18-year-old Abdul Hadi Fakhri Nazzal and 25-year-old Habib Mohammad Ikmail overhead, during their funeral in Jenin on Friday.
Earlier on Friday, Nazzal succumbed to critical injuries after being shot in the chest and neck by Israeli forces during the Thursday raid, bringing the number of Palestinians killed in 2023 to nine.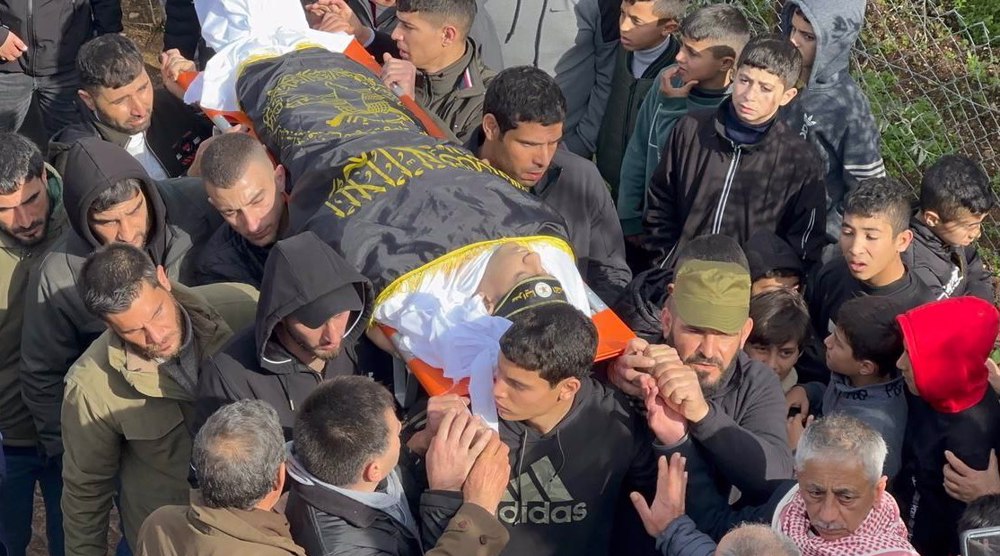 Also on Thursday, Israeli forces shot Ikmail in the head in the same town. The Palestinian man was later pronounced dead at a hospital in Jenin.
The Palestinian death toll from 2022 stands at around 150, making last year the deadliest year for Palestinians since 2004, when the United Nations started keeping a tally.
Addressing a UN Security Council meeting on the rule of law on Thursday, the world body's Secretary-General Antonio Guterres said 2022 had been a deadly year for both Palestinians and Israelis and condemned all "unlawful killings and acts by extremists."
The Israeli regime's occupation forces and illegal settlers have been noticeably escalating their attacks against Palestinian civilians in the West Bank and other areas, in an attempt to forcibly expel Palestinians from their lands and make way for expanding Illegal Jewish-only settlements.
Between 600,000 and 750,000 Israelis occupy over 250 illegal settlements that have been built across the West Bank since the occupation of the Palestinian territory in 1967.