Middle East
Sayyed Nasrallah Meets Speaker Berri: Regional, Local Issues on Agenda
Hezbollah Secretary General Sayyed Hasan Nasralla met Lebanese Speaker Nabih Berri on Friday night, with several issues being discussed.
Hezbollah's Media Relations Office announced the meeting lasted for several hours and was attended by Sayyed Nasrallah's political assistant Hussein Al-Khalil and Berri's political assistant, minister Ali Hasan Khalil.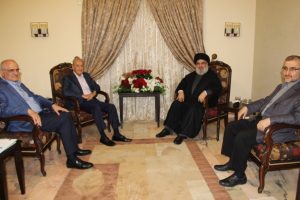 Sayyed Nasrallah and Speaker Berri "discussed latest developments in the region, especially those in Palestine, stressing the firm support to Palestinian people in their national struggle (against Israeli occupation) with all means," a statement issued by Hezbollah's Media Relations Office read.
Detailed discussion also took place over the local issues in Lebanon, in which the two sides positively assessed the results of the latest parliamentary elections, noting that the results showed how the Lebanese people are committed to the choice of resistance, as well as to state building, the statement added.
Meanwhile, the statement noted that Sayyed Nasrallah and Berry voiced satisfaction over electing a parliament speaker and nominating a prime minister following the elections, hoping that a new government will be formed soon.
The meeting also tackled economic, financial and administrative issues, in which the two sides stressed that efforts to counter corruption in the country must be seriously pursued, according to the statement.