Middle East
World News
Iran FM visits Turkey's quake-hit city as Turks thank Iranians for timely aid
Iran's foreign minister on Wednesday visited the city of Adıyaman in southern Turkey to express solidarity with local people affected by powerful earthquakes that hit the country last month, killing at least 45,000 people.
Hossein Amir-Abdollahian, who arrived in the Turkish capital Ankara on Tuesday night, visited Adıyaman on Wednesday afternoon, hours after a meeting and a joint press conference with his Turkish counterpart Mevlut Cavusoglu.
The top Iranian diplomat spoke with local officials and people affected by the devastating earthquakes and also visited a camp set up by the Iranian government to provide shelter, relief, and aid to the displaced people.
Speaking to reporters at the site, Amir-Abdollahian said the camp was established by the Islamic Revolution Guards Corps (IRGC) with assistance from the Iranian Red Crescent Society (IRCS) and the military forces.
IRCS and the army, he maintained, have provided medical services to the affected people while also engaging in rescue operations.
Iranian teams managed to rescue several people trapped under rubble, he told the reporters, noting that IRCS teams were among the first groups who arrived in Turkey following the February 6 earthquakes.
"At the outset of my visit, I received messages of appreciation from both Turkey's officials and people," Iran's foreign minister said.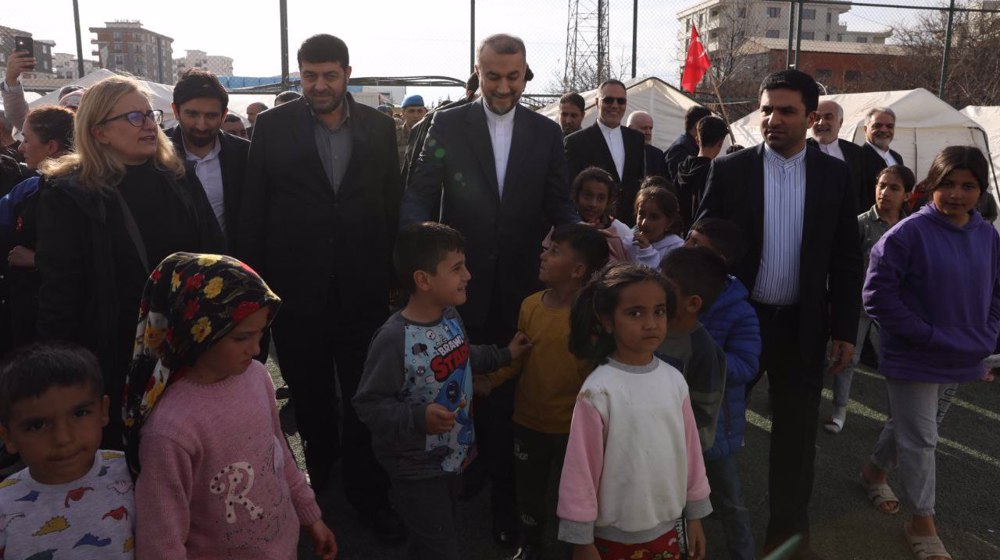 Earlier in the day, the top diplomat held a meeting with Cavusoglu, during which he extended the Islamic Republic of Iran's condolences and expressed sympathy with the Turkish government and people over the loss of lives in the earthquakes.
He said as soon as the news of the quake in Syria and Turkey broke out, the Leader of the Islamic Revolution Ayatollah Seyyed Ali Khamenei and President Ebrahim Raeisi laid serious emphasis on delivering aid and relief services to the quake-stricken people.
He added that the entire Iranian nation and government went out of their way to extend help to the "friendly and brotherly nation" of Turkey.
For his part, Cavusoglu appreciated Iran for the swift delivery of relief services and aid supplies to the quake-stricken people in Turkey after the disaster.
The expression of sympathy and aid delivery showed Iran is also a good brother to Turkey besides being a good friend and neighbor, he said.
The powerful earthquake on February 6 claimed the lives of more than 52,000 people in southern Turkey and northwestern Syria and rendered millions of people in the two countries homeless.
The quake caused immediate damage estimated at $34 billion, or roughly 4 percent of Turkey's annual economic output, according to the World Bank.
Many countries, including Iran, dispatched rescue teams and aid to Turkey. Iran was among the first countries to rush to the aid of quake-hit people in both countries by sending tons of medical, food, and sanitary aid.