Europe
World News
French police fire tear gas, clash with Labor Day protesters
Police in France have fired tear gas to disperse protesters in the capital Paris and other major cities on the international Labor Day amid rising public anger over the passage of President Emmanuel Macron's unpopular pension reform.
The western city of Nantes and the central city of Lyon were also the scene of police violence on Monday as protesting workers and socials activists, backed by labor unions, thronged the streets in their thousands to mark the first day of May.
The protesters pelted stones and projectiles at the riot police, smashed shop windows and damaged bus stops in response to the police using tear gas canisters. Media reports said at least 22 people were arrested in the Paris.
In the northern city of Calais and the southern city of Toulouse, environmental activists and other groups fighting for economic justice were on the streets amid growing discontent with Macron's policies.
Organizers believe the pension reform, which raises the retirement age from 62 to 64, is a threat to hard-fought worker rights. Macron claims the legislation is economically necessary as the population ages.
Laurent Berger, head of the reform-minded CFDT trade union, said at the Paris march that the months-long protest movement shows "workers' hope to be treated differently." Berger also said Macron's government had been deaf to the demands of one of the most powerful social movements in decades.
Berger said his union was open to discussions with the government. "We must bring other proposals over salaries and working conditions to the table."
Sophie Binet, leader of the hard-left CGT union, said the pension reform had left Macron isolated. "The executive cannot govern without the support of its people."
The French government pushed the contested pension law through parliament in March using an emergency constitutional tool that avoided a vote in the National Assembly.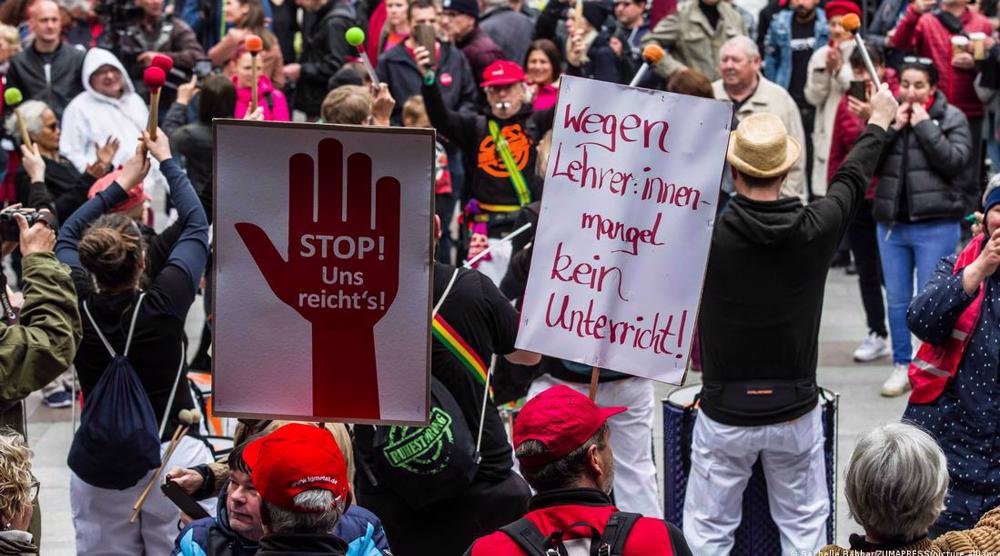 Apart from the retirement age raise, the legislation also requires people to work 43 years to receive a full pension, among other changes to the system.
After France's highest court approved the law, Macron ignored calls to delay its enactment by signing it, in a move that fueled public anger and unleashed the country's biggest protests in years.
According to France's Interior Ministry, some 782,000 people protested across France on Monday for May Day in a new show of anger against Macron's pension reform, including 112,000 in Paris alone.
The CGT union, however, said it counted 2.3 million protesters across France, including 550,000 in the capital. The turnout was massively higher than May Day last year.
The French Interior Minister Gerald Darmanin also told reporters that at least 108 police were wounded and 291 people detained across France as violence erupted at May Day protests showing anger at Macron's pension reform.
Saying that such a high toll of police wounded was "extremely rare" for a May 1 protest day, Darmanin added that one policeman who was hit by a Molotov cocktail had received burns to the face and hands, but his life was not in danger.
Labor Day rallies sweep across Europe
Elsewhere in Europe, union-led protests were staged throughout Germany, Italy and the Netherlands, with workers and activists calling for better government policies to safeguard their rights and meet their wage demands.
Three main Italian unions held a rally in the southern city of Potenza, protesting against a labor package approved by Prime Minister Giorgia Meloni's rightist government. They called on her government to increase wages and reform the country's tax policy, which rolled back anti-poverty subsidies introduced four years ago.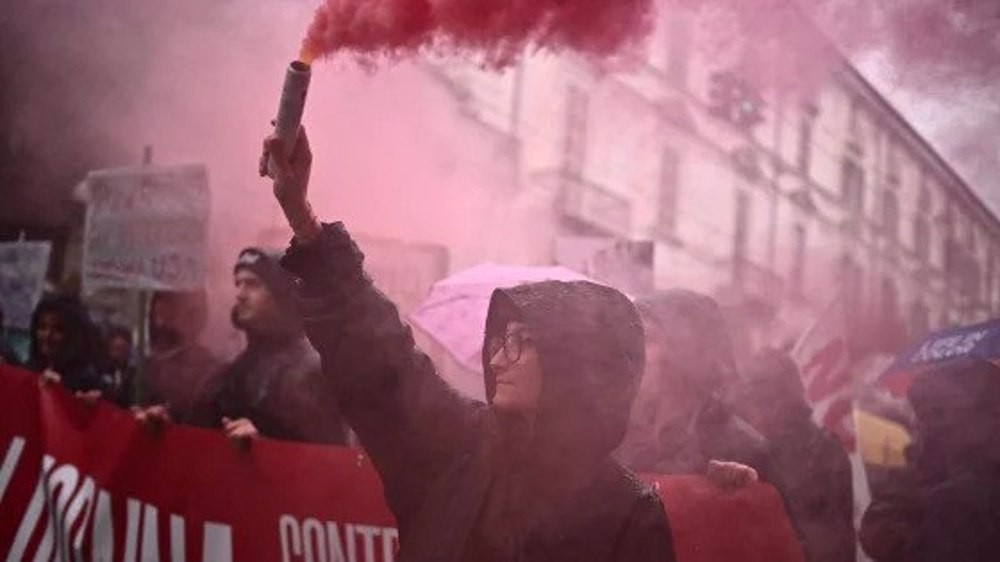 The Italian government says the reform costs too much and discourages able-bodied people, especially the youth, from looking for jobs.
In Turin, anti-government protesters marched with a puppet of Meloni holding up her arm in a fascist salute.
Labor Day protests also took over the Netherlands, which saw unions demanding higher wages.
Due to inflation, employees of the largest labor union in the Netherlands, the FNV, had offered its employees a wage increase of 3 to 7 percent this year, followed by a 5-percent increase next year and automatic price compensation with a maximum of 5 percent from 2025 on.
The FNV warned strikes would continue on Tuesday if their demands were not met.
In Switzerland, a parade through Zurich took place without major incident, with demonstrators throwing water balloons at the emergency services. The windows of at least two banks were also smashed and some property was spray-painted.