Is Turkey using New Zealand massacre in favour of upcoming election?
Ömer Çelik, the Spokesman of AKP about the massacre of New Zealand. "There is a political stacking doll ghost wandering. There is enmity for Erdogan at the top, and enmity for Turkey, Islam at the bottom of this political stacking dool ghost."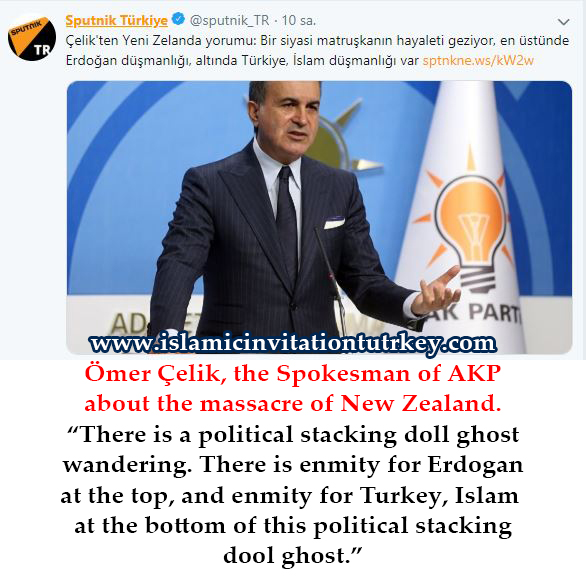 In the following tweet Hilal Kaplan says, "The dirtybag terrorist targeted Erdogan from 16,000 km while there are some people who can not understand our future,"
This lady is a a supporter of Erdogan in all areas. Do they use this massacre in favour of Erdogan? Few days ago Netanyahu attacked Erdogan and yesterday the New Zealand… During a time when Erdogan has no any supporters ahead of upcoming elections 0n March 31, 2019.
<img class="alignnone size-full wp-image-419446″ src="https://www.islamicinvitationturkey.com/wp-content/uploads/2019/03/53794451_1235190603303488_4555763671627726848_n.jpg" alt="" width="720″ height="206″ />