Middle East
World News
Assad: Arab League summit 'historic opportunity' to address regional issues 'without foreign interference'
Syrian President Bashar al-Assad has made his first address to the Arab League summit in 12 years, returning to the Arab League despite the vociferous opposition of the United States.
Speaking during the summit in Jeddah, Saudi Arabia, on Friday, Assad called on member states of the Arab League to address regional issues "without foreign interference."
Assad said that we have "a historic opportunity to rearrange our affairs with the least amount of foreign intervention," the Syrian official news agency SANA reported.
The remarks come as the Arab League readmitted Syria on May 7 in defiance of threats made by the United States. The decision was supported by all 13 of the 22 member states that were present at the session.
The growing normalization has not been welcomed by Washington whose policies in the past decade have been focused on putting an end to the Assad government and isolating Syria.
During his address, Assad hoped for increased cooperation between regional states, saying, "I hope that it marks the beginning of a new phase of Arab action for solidarity among us, for peace in our region, development and prosperity instead of war and destruction."
He noted that the cracks between Syria and other Arab states that have emerged over the last decade must be addressed, and the most important thing is to let the people manage their internal affairs and avoid external interference.
Riyadh welcomes Assad 
Addressing the summit, Saudi Crown Prince Mohammed bin Salman welcomed Assad back to the Arab League, saying, "We are pleased today by the attendance of Syrian President Bashar al-Assad in this summit."
The kingdom's de facto ruler also hoped that the return would lead to "stability" in Syria.
This is the first visit of Assad to Saudi Arabia after the two countries agreed to resume diplomatic relations and reopen embassies back in March.
The Arab League suspended Syria's membership in November 2011, when the country launched a campaign to weed out the most violent militants trickling into the country from around the world. Syria, one of the six founding members of the Arab League in 1945, denounced the move as "illegal and a violation of the organization's charter."
Assad, MBS meet
Following the conclusion of the summit, Assad held a meeting with Mohammed bin Salman, the de facto ruler of Saudi Arabia.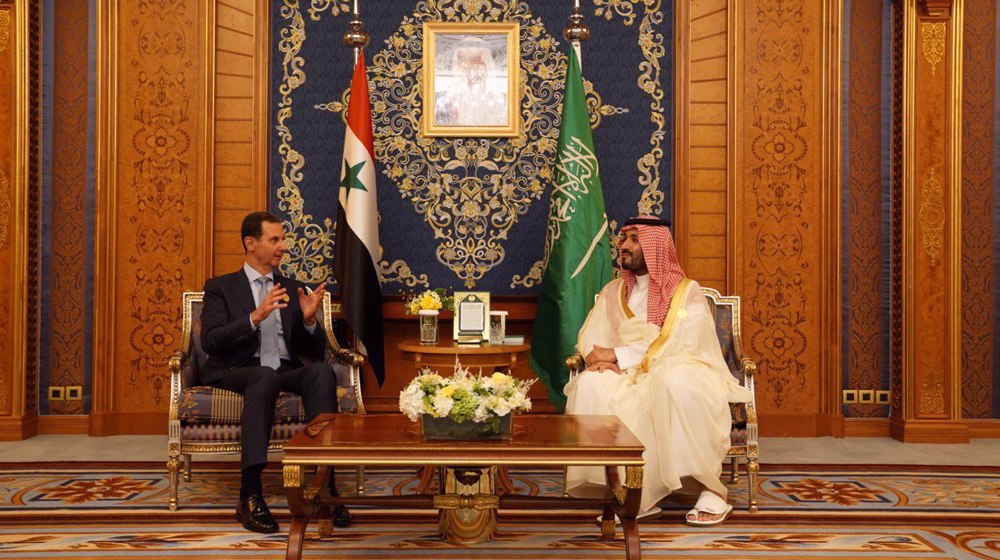 The sides discussed bilateral relations and developments in the Arab arena following the diplomatic rehabilitation, according to a statement by the Syrian president's office.
Assad also Riyadh's efforts for achieving Arab rapprochement, hoping that the summit would contribute to cohesion among Arab countries.