Middle East
World News
A record 3 million Iranian pilgrims flock to Iraq for Arbaeen this year
Iran's government spokesperson says more than three million Iranian pilgrims have so far flocked to neighboring Iraq to participate in the annual Arba'een commemorations, setting a new record.
Ali Bahadori Jahromi, a spokesman for the Iranian government, told reporters on the sidelines of a cabinet meeting in Tehran on Wednesday that a record number of Iranian pilgrims had traveled to Iraq for the Arbaeen pilgrimage this year.
He said around 1.5 million Iranian pilgrims have already returned from the pilgrimage.
Arba'een marks the 40th day after the martyrdom anniversary of Imam Hussein (AS), the third Shia Imam, which brings together millions of people from across the world who undertake an 80-km walk between the holy cities of Najaf and Karbala.
Imam Hussein (AS) and his 72 companions were martyred in the Battle of Karbala in southern Iraq in 680 AD while resisting the much larger army of the despot Umayyad ruler of the time, Yazid.
The Arbaeen Walk is the largest annual peaceful gathering that witnesses the participation of millions of people from different countries, most notably Iran.
Experts say it is an endeavor to keep alive the movement of Karbala, which is a movement against terrorism, fascism, and despotism.
This year, the event has assumed added significance as it comes after two years marked by the COVID-19 pandemic. The border crossings between Iran and Iraq have witnessed massive crowds in the past few years, forcing the closure of the gates a few times.
Senior Iranian government officials made multiple visits to the border crossings in recent days to ensure the smooth passage for pilgrims to and from Iraq.
Iranian nationals have been granted visa exemptions by the Iraqi authorities for the Arba'een pilgrimage this year.
Visiting the Shalamcheh border crossing between Iran and Iraq on Tuesday, Iran's Interior Minister Ahmad Vahidi said they had witnessed "a new peak" in the number of Iranian pilgrims at the country's six border crossings with the Arab country this year.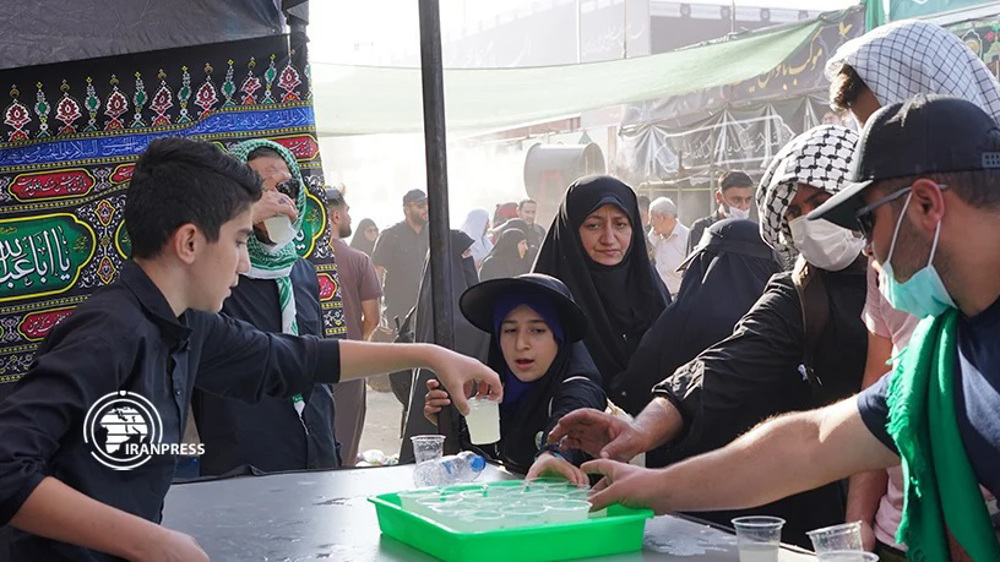 He, however, said that despite the huge number of pilgrims, their transit through the border crossings had not faced any problems.
"We are witnessing a favorable situation in all the six border crossings," he asserted.
Vahidi visited Baghdad last week, where he met his Iraqi counterpart and other senior officials to discuss the issues related to Arba'een pilgrims.
In a message issued on Tuesday, he expressed his gratitude to the Iraqi nation for their "kind hospitality."
"As the Minister of Interior of the Islamic Republic of Iran, I would like to thank you, my dear Iraqi brothers and sisters, for your kind hospitality in serving the pilgrims," he said in a statement.
Iran's vice president Mohammad Mokhber and the top commander of Iran's Islamic Revolution Guards Corps (IRGC) Major General Hossein Salami also made several visits to the border crossings in the last few weeks.