USA
World News
US students leave schools to join anti-Trump protests
Thousands of students across the United States have marched out of their schools to protest against Donald Trump and his election as the 45th American president.
After leaving their classrooms by the hundreds on Monday, the students took to the streets of several US cities in California, Maryland and Oregon while carrying anti-Trump signs and flags.
In east Los Angeles, California, the protesters, some of them too young to vote, held American and Mexican flags together, an apparent response to Trump's campaign pledges to end illegal immigration from the southern neighbor.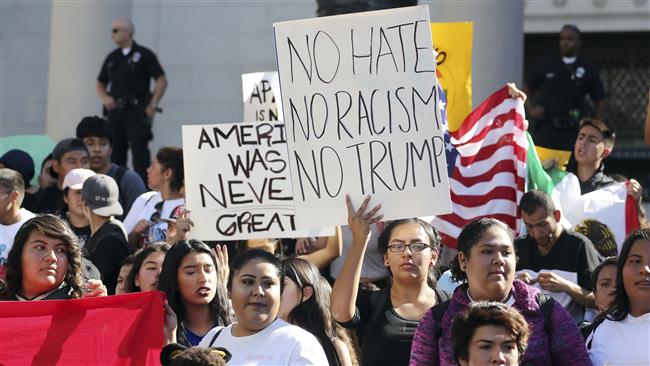 Holding sign that read "Rise Up" and "Together We Stand," the protesters marched to a plaza in the predominantly Hispanic neighborhood of Boyle Heights.
Protesters also denounced Trump's proposed policies against Muslims, women and minorities.
Similar events were held in Portland, Oregon and Silver Spring, Maryland, showing that anti-Trump protests were not slowing down almost a week after the New York billionaire's election victory against Democratic nominee Hillary Clinton.
"Although it has been nearly a week since the presidential election, many students remain concerned about the outcome and want their voices to be heard," said Michelle King, superintendent of the Los Angeles Unified School District.
The students, some of the too young to vote, said they did not want a racist president. Some of them went even farther, calling Trump a "Nazi president."
"I want to tell people that we don't want Donald Trump as our president," a 16-year-old student told the Los Angeles Times. "Because he's racist and I have immigrant parents and I'm afraid that I might lose them."
Thousands of protesters have been holding rallies in major US cities like Chicago, New York City, Los Angeles, Boston, Portland, urging Trump to resign over his racist and divisive campaign pledges.
While Trump's supporters are calling for an end to the protests in schools, Rudy Giuliani, the former New York mayor and a senior adviser to Trump, caused more outrage when he called campus protesters "spoiled crybabies" last week.
Trump himself tried to downplay the protests first, saying the protesters were "incited" by the media and were afraid "because they don't know me." However, he changed his tone later on, commending the protesters for their "passion for our great country."