Why does nobody qustion the barefaced pictures while they serve closed faced photos? HYPOCRISY of those so- called ones who blame Syrian Government.
The crime of Abdul Majid Faysal Al Damlalha refuted the latest news of so-called "systematic torture by Assad".
He would be a maths teacher if he weren't kidnapped by terrorists in Syria. Inhuman terrorists kidnapped him in front of his families. He was forced to fight against Syrian Government. He had tried to escape many times but he couldn't. He was left to death by Al Qaeda terrorists. Syrian Army found him after 39 days and he had already died…
Here the new doubts on scandal:
1- Why there is aways a claim before the international conferences about Syria case? (Chemical weapon and now this "systematic torture and killing" photos served by enemies of Syria)
2- It is claimed that the photos are taken in Hospital's morgue. WHY AREN'T THERE ANY PHOTOS OF THE MORGUE while the photographer took the picture of private parts of body but no any images of the name of hospital or morgue?
3- It is said that the photos were taken by the archivist and this means the information of those people were sent to the prosecution& attorney generalship, also this means the records of those victims are in hands of attorney general. In that case why didn't that prosecutor give the names of those victims so that the families of those victims would find where their relatives are held or in which prison they were being held…? In this way all realities would be clear.
4- Geneva 2 is always delayed and the time of the photos are just okay for those who always have excuse for not participating the conference.
5- Did the archivist come to the mercy just before the Geneva 2? Why didn't he give the photos beforehand?
6- Why didn't archivist take even just ONE photo(s) of the employees, officials who delivered the victims' body
7- Now that there are 55 000 photos of this crime then why haven't they published any other photos?
8- How did CNN, The Guardian, AA, TRT understand the crime was done by "Assad Regime" just through some photos? Did the photos or victims tell them the truth or were those media at the scene of crime?
9- Who will take advantages of this crime mostly? Assad or Oppossition?
10- Why the dates of the pictures are not shown? Now that CNN, The Guardian and others blame Assad openly then why don't they give clear evidences but suspended, vague claims… and so forth
Now, who are likely to kill people in these ways? Syrian Government or the terrorists who see anything legal to topple Assad?
Terrorist Groups in Syria 'Unanimous' in Slaughter, Decapitation, Atonement
Who are likely to torture people???
For YouTube Link:
http://www.youtube.com/watch?feature=player_embedded&v=P9v7yGzfthg
Psychopath terrorists in Syria talking with the beheaded body
For YouTube Link:
http://www.youtube.com/watch?feature=player_embedded&v=w6VKhdiPNQw
Why UN or other organisations say NOTHING on these CLEAR EVIDENCES?
For YouTube Link:
http://www.youtube.com/watch?v=4l30x_1nXoQ&feature=player_embedded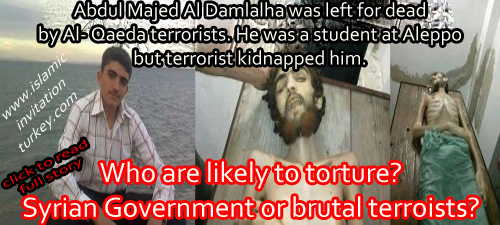 source: islamic invitation turkey