3 Palestinians injured by Israeli gunfire east of Gaza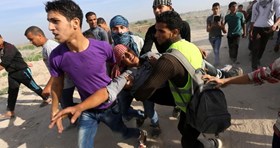 Three Palestinian young men on Friday afternoon suffered bullet injuries when Israeli soldiers opened fire at them in a border area east of Gaza City. The Palestinian Information Center (PIC) reporter in Gaza said that soldiers near Nahal Oz military post east of Gaza City opened fire at a group of young men after they rallied near the border fence.
A spokesman for the health ministry said the young men suffered injuries in the lower extremities of their bodies. Every Friday, Israeli border soldiers open fire at Palestinian protesters rallying near the security fence.